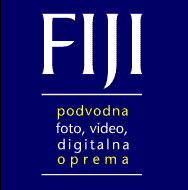 .
ohišja digital / kućišta / housings --> Ikelite - digital Canon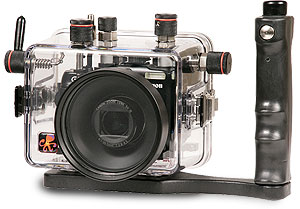 Canon G-11, G-12


Cena:

540

EUR (129.406 SIT)
Proizvajalec: Ikelite
Koda: I 6146.12

For the most discerning of underwater photographers we offer a full-featured yet affordable camera housing for the Canon Powershot G11 digital camera. This durable housing is molded of crystal clear polycarbonate for corrosion free operation up to a depth of 200ft (60m). Every camera function is accessible in this very sophisticated housing installation. The included tray and release handle offers balance and exceptional handling while providing a convenient attachment point for optional Substrobe mounting arms. Strobe arms can be released easily at the touch of a button whether above or below water. The optional Dual Handle and Tray assembly #9523.32 provides even greater stability and allows for the addition of a second Substrobe. The housing comes standard with an optical grade glass flat port which allows full use of the camera`s zoom range without vignetting. A flash diffuser is included to improve image quality when using the camera`s built-in flash to illuminate the subject. The camera`s flash is relatively weak for underwater use and partially blocked by the housing`s port. Effective use is limited to macro photography at a distance of less than 2 feet (0.6m). Click here for examples of the camera`s built-in flash at 2ft. Special conversion circuitry built in to the housing provides true Canon eTTL exposure connected to any current model Ikelite DS Substrobe. The camera controls the Substrobe`s output resulting in effortlessly perfect exposure. Spare Parts. #0110 Main housing o-ring #5020 Silicone lubricant in 4 1cc tubes Size and Weight. 7` wide x 6` high x 6` deep (10` wide with tray and handle attached) 17.8cm x 15.2cm x 15.2cm Less than 6lbs (2.7kg) above water with camera installed Slightly negative in saltwater for stability Color Correcting Filters. Optional color correcting filters replace some of the reds and more natural tones that would otherwise be lost. Available for tropical blue water and green water settings. Filters are effective in shallow, sunny conditions depending on water clarity. For optimum results use in combination with manual white balance (see camera user guide for information on setting custom white balance). #6441.46 UR/Pro filter for tropical blue water #6441.86 UR/Pro filter for green water Lighting Options. Ikelite DS series Substrobes are industry favorites for their warm, even coverage and lightning fast recycle time. We recommend convenient and affordable strobe with sync cord packages that provide everything you need to take advantage of `automatic` TTL exposure. Click here for more information on substrobe packages. Click here for recommended camera settings when using TTL exposure. All current model strobes are fully compatible with this TTL system. Older DS substrobes may require circuitry updates. Click here for circuitry requirements by serial number. Special sync cords are available to connect non-Ikelite strobes from Nikonos, Inon, and Sea & Sea. Non-Ikelite strobes can be used in manual modes only. Click here for more information on sync cords. Strobes with a slave feature can be triggered by the camera`s flash or by an Ikelite Substrobe. An included flash deflector prevents the camera`s flash from creating backscatter in the image. The optional #9571.3 features a 1` (2.5cm) ball for attachment to the top of the release handle. This provides a mounting point for Ultralight, TLC, and other non-Ikelite arm systems. Click here for more information on attaching non-Ikelite strobes. External Wide Angle Adapter. The WD-4 Wide Angle Conversion Dome corrects for refractive magnification to give 28mm angle of coverage underwater with the G11. The conversion dome may be removed and replaced underwater and requires no modification to the housing`s standard port. Click Here for more information on the WD-4. External Macro Adapter. Optional adapter #9306.82 (MSRP $50) slides over the front of the lens port and allows for the attachment of 67mm threaded macro lenses from Inon and Epoque. The adapter may be removed and replaced underwater and requires no modification to the housing`s standard lens port. Macro lens not available for purchase through Ikelite. Not for use with 67mm threaded wide angle lenses. External wide angle conversion lenses cannot be used effectively with the Canon G11 camera. Carrying Case. Optional #3920 Soft-Sided Case accommodates the G11 Housing with a single Substrobe DS51, strobe arm and accessories. Click here for more information.



FIJI Team
Slovenija / SLO
FI POTENCIAL d.o.o.
Komenskega 1
4000 Kranj, Slovenija
tel: +386 4 5329 664
GSM: +386 31 302 367
info@fiji.si
FIJI Team
Hrvatska / CRO
Villa Splendissima d.o.o.
Lakmartinska 4
51 500 Krk, Hrvatska
TEL: 099 / 224 8090
info@fiji.si
.